Water Supplies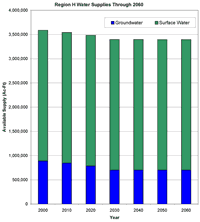 Region H Water Supplies Through 2060
Groundwater, surface water captured in reservoirs, and run-of-river sources comprise the available water supply within a river basin.
Groundwater Sources
Four aquifers supply groundwater within the Region H area.  The aquifer that furnishes the most groundwater within the area is the Gulf Coast aquifer.  The other major aquifer in the study area is the Carrizo-Wilcox. There are also two minor aquifers in this part of the state; the Sparta and Queen City aquifers occur in Leon County. Groundwater use is regulated in Harris, Galveston, and Fort Bend Counties due to the potential for over-drafting the Gulf Coast aquifer.
Surface Water Sources
Surface water sources in Region H are reservoir storage and run-of-river supply for the three rivers in the area; the Trinity, the San Jacinto, and the Brazos.  Notable reservoir supplies in these basins include Lake Livingston in the Trinity River Basin, and Lake Houston and Lake Conroe in the San Jacinto River Basin.  A system of reservoirs in the upper Brazos River Basin provides for firm water supplies in the western portions of Region H.  Supplies from the Neches River Basin are also available to some portions of Region H, while run-of-river supplies in the coastal basins also provide some supply.
Additional information regarding water supplies can be found in Chapter 3 of the 2006 Region H Regional Water Plan.